Suzanne Bodevin
Department: Economics and Management
Graduate Program(s): International Management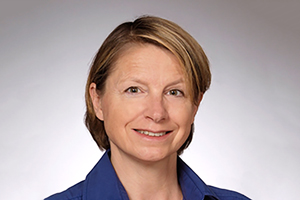 Professor Bodevin has taught AUP core courses in finance for more than a decade. The International Financial Markets course, introduces students to interactive trading platforms that require analysis of current market data to establish profitable portfolios.    
Multinational Business Finance (BA4018) explores the development of MNC strategy and foreign direct investment, while emphasizing the importance of a multidisciplinary perspective and the value of critical writing.  Analyzing the political economy of host countries is essential for MNC's in terms of the firm's ability to establish a presence abroad, and a longer term working relationship with national governments. Additionally, this course addresses management of cross-border flows, foreign exchange risk management, and sourcing capital internationally.   
Professor Bodevin teaches a master's level module in Sustainable Investment, and concentrates her research efforts in this area.  Serving as a session moderator at Triple Bottom-Line Investment (TBLI) conferences related to ESG* integration and impact investing (2011-15), and participated in other sustainability conference participation including: The Global Reporting initiative (GRI) Conference, May 2016; the Responsible Business Management Forum (OECD), June 2016; and the Sustainable Finance Summit, Geneva. Since 2012 Professor Bodevin has served a principal organizer of the AUP sustainability study trips in Scandinavia.
*ESG = environmental, social and governance
Education/Degrees
M.A. and PhD - The Fletcher School of Law and Diplomacy (Tufts University)
B.A. in Economics and French - The University of Notre Dame
News
Confirmed Participant of Sustainable Finance Seminar, Haute Ecole de Gestation, Geneva, Switzerland (April 28-29 and May 5-6, 2017).  Includes presentations by industry professionals that rate firms' sustainable investment, and and also market sustainable investments including impact investing. Micro finance and philanthropy will also be covered.
Research Areas
Sustainable Finance
International Financial Crises
Multinational Business Finance
Curriculum Vitae